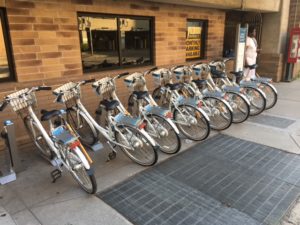 City Hall says Zagster will shut down its bike sharing service for the winter on Wednesday.
Mayor Lovely Warren's office says Zagster drew more than 8,000 riders who logged more than 22,000 trips using their bike sharing app since it launched in July. The average ride lasted 21 minutes. Zagster says that means more than 9,100 fewer car trips by people who chose bikes instead.
Mayor Warren said in a statement that they couldn't be happier with Zagster's first season in Rochester and she believes they're here to stay.
Zagster issued a statement saying it looks forward to extending the program in the spring.